The main business scope covers the whole process of project investment activities such as preliminary consultation, planning, design, project management, general contracting and professional contracting
.
Jiulong Phoenix City, Xuzhou Renjia, Huamei Qinyuan, park 100, jiahuiyuan and other communities have been rated as the top ten boutique buildings loved by readers of the year by Xuzhou daily, accounting for more than 50% of the selected buildings
.
is listed as a major national science and technology industry engineering project and won the title of "national well-off housing demonstration community"; Shanshui Huamei community won the award of "China's best ecological environment community" in 2005
.
In the future, they will contribute to urban construction, work together with Wanhe District, and witness Wuhu aviation industrial park become a new engine to bring industrial agglomeration and promote urban economic development..
.
In 2019, it was certified as a high-tech enterprise in Jiangsu Province, with certificate No.: gr201932009795
.
Now it has more than 210 employees, 65 with medium and senior technical titles, and 17 national first-class registered architects, first-class registered structural engineers, national registered public equipment engineers and registered electrical engineers
.
During the Shanghai World Expo, Jiangsu Huahai Architectural Design Co., Ltd
.
It is a national class a architectural engineering design unit
.
At the same time, it has the qualification of general contracting and engineering supervision, and passed ISO9001:2008 international quality system certification in 2012
.
designed the steel structure inner Pavilion and water, electricity, fire and ventilation of China National Pavilion and urban people Theme Pavilion
.
was established in 1984 and obtained class a qualification for architectural engineering design in 2005
Today, Anhui Branch of Jiangsu Huahai Architectural Design Co., Ltd
.
After the company is completed, put into operation and stable operation, Jiangsu Huahai Design Institute will set up a wholly-owned subsidiary in the park and put into operation the construction of "Huahai Design 2.0", that is, based on the mode architecture of AI + BIM + cloud, starting from the existing business, further extend and deepen the digital auxiliary tools for deepening, calculation, manufacturing and construction to the building end, combined with the Han Gong construction Jiang Jian, the two main bodies of steel structure, established a wholly-owned Huahai design wisdom construction company to provide customers with a complete set of efficient solutions combining standard modularization, automatic design and assembly construction, and also provide industrial AI design and professional construction integration projects for the park
.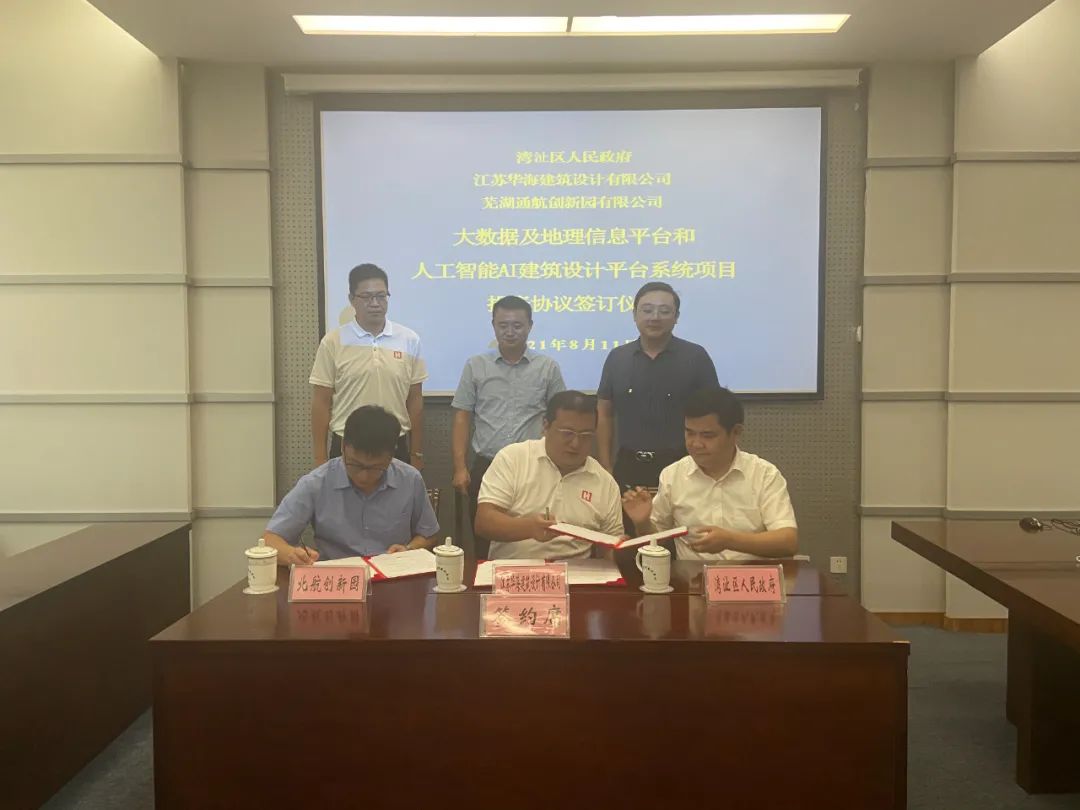 It is reported that Jiangsu Huahai Architectural Design Co., Ltd
.
Among them, Fenghuangshan Kangju community mainly designed by Jiangsu Huahai Architectural Design Co., Ltd
.
successfully moved to the aviation industrial park in Wanyi District, Wuhu City
.
Engineering design projects cover more than ten provinces and cities such as Jiangsu, Shandong, Henan, Anhui, Hebei, Fujian, jaw and Shanghai, and more than 60 projects have won provincial and municipal excellent design awards
.
Over the years, Huahai has adhered to the combination of design and research, followed the road of technological development and talent development, and more than a dozen academic papers are published in provincial or national core journals every year; Hundreds of engineering projects are completed every year
.
On August 11, 2021, with the successful completion of the signing ceremony of the investment agreement for the big data and geographic information platform and artificial intelligence AI architectural design platform system project in Wuhu Aviation Industrial Park, Wuhu Wanyi District ushered in the first national class a Architectural Design Co., Ltd
.
After 36 years of efforts, it has developed into an architectural design company with professional supporting facilities, strong technical force and scientific management methods
.