Guide: the Ministry of Education recently issued the catalogue of Vocational Education Majors (2021) (hereinafter referred to as the catalogue)
.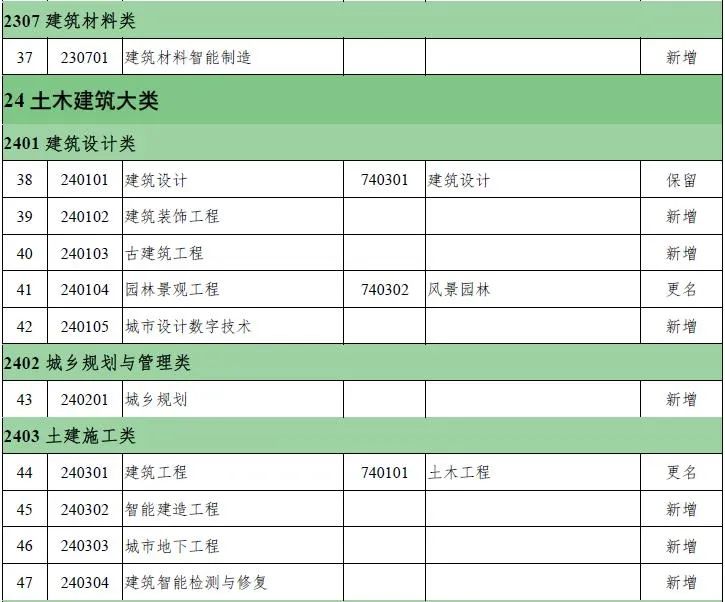 The new catalogue has 19 major categories, 97 major categories and 1349 majors, including 358 Secondary Vocational Majors, 744 higher vocational college majors and 247 higher vocational undergraduate majors
.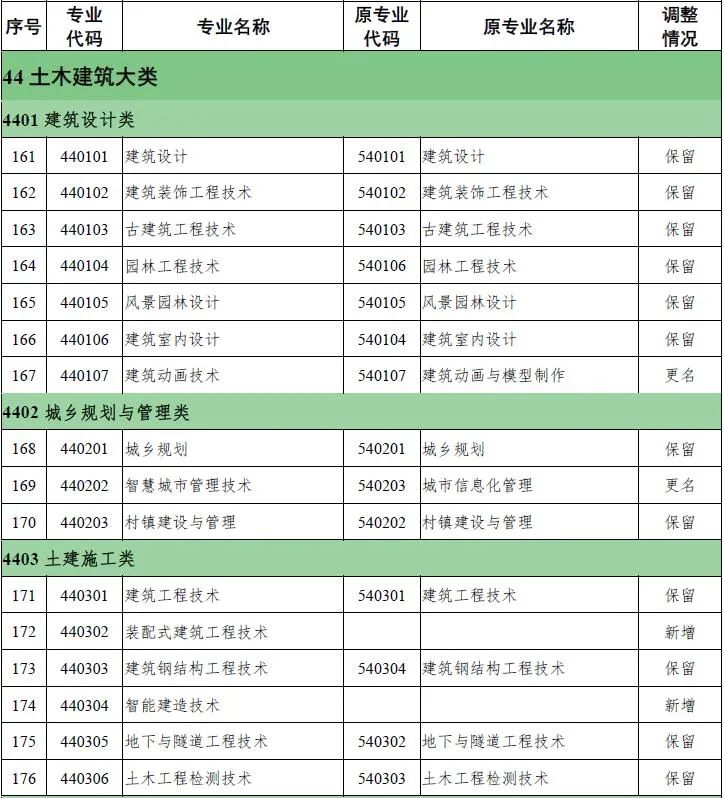 According to the person in charge of the Department of vocational education and adult education of the Ministry of education, the new catalogue fully implements the strategic deployment of the 14th five year plan and the long-term goal of 2035
.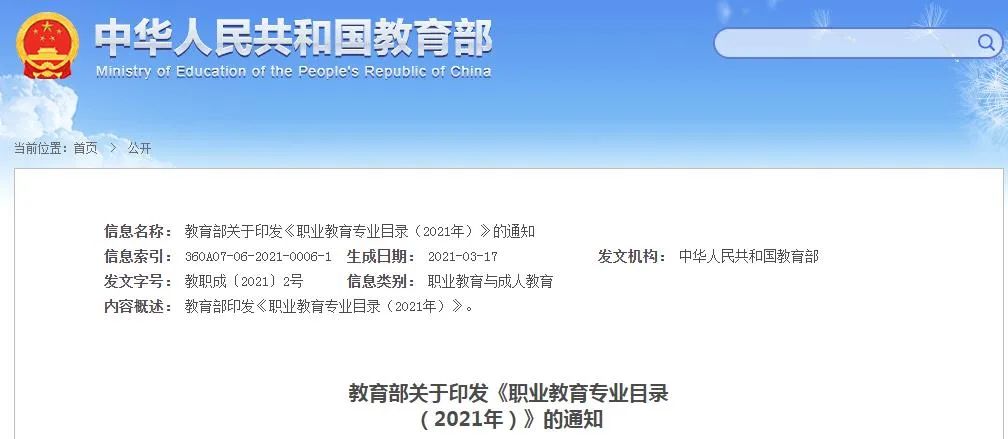 For example, for the new business form of prefabricated buildings and the new occupation of "prefabricated building constructors", the specialty of intelligent manufacturing technology of prefabricated building components is set up
.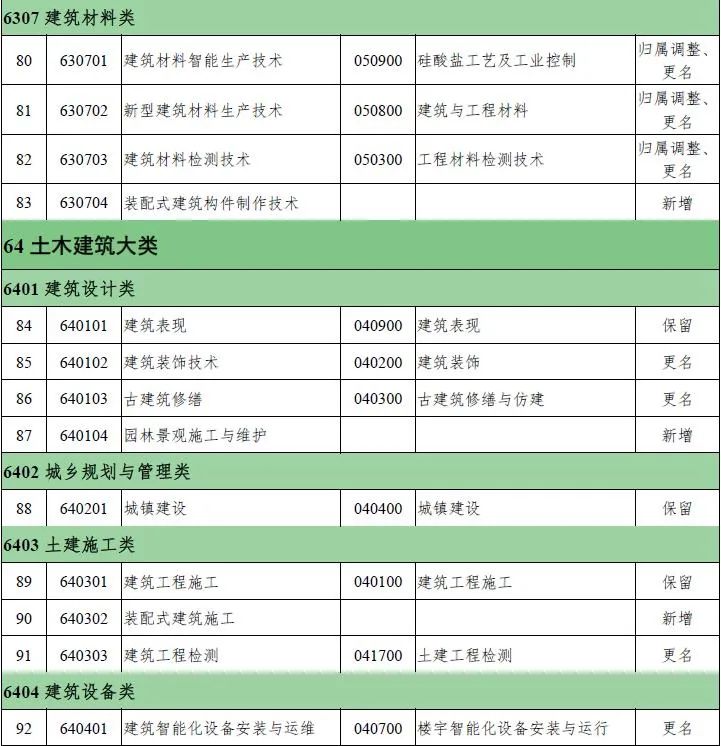 Four disciplines related to prefabricated buildings and some disciplines related to intelligent construction have been added to the new catalogue
.
The details are as follows: new fabricated building related majors, secondary vocational education professional building materials, new fabricated building component manufacturing technology, civil construction, new fabricated building construction, higher vocational education professional building materials, new fabricated building component intelligent manufacturing technology, civil construction, new fabricated building engineering technology Intelligent construction technology higher vocational education undergraduate specialty building materials new building materials intelligent manufacturing civil construction new intelligent construction engineering ▽ comparison table of new and old majors in secondary vocational education ▽ comparison table of new and old majors in Junior College of higher vocational education ▽ comparison table of new and old majors in undergraduate of higher vocational education what are the scope of assembled job search? At present, the prefabricated hot recruitment Posts mainly include draftsman, component production technician, constructor, structural engineer, etc., and the upward development includes prefabricated marketing director, business director and consulting, prefabricated building technology R & D personnel, prefabricated building manager, etc
.
First, the component designer ◎ draws the template drawing of prefabricated components, reinforcement drawing of prefabricated components and embedded reservation drawing of prefabricated components in detail
.
◎ professional abilities are required, including: being able to read drawings skillfully, and being familiar with the structural requirements and material requirements of various components; Be familiar with component production process, transportation conditions, lifting requirements, etc
.
Second, the fabricated structure engineer ◎ is responsible for the structural design management and PC deepening design of the project, and the coordination of component production process
.
◎ professional abilities required include: issuing structural calculations required for split design projects, reviewing schemes and deepening design drawings
.
Third, component production technician ◎ production preparation, quality control, production process arrangement, quality inspection, transportation and safety management of prefabricated components
.
◎ the required professional abilities include: understanding the preparations before the construction of prefabricated concrete structure engineering, mastering the hoisting construction technology and relevant knowledge of main components, and being familiar with relevant knowledge of hydropower installation and safety management
.
Fourth, prefabricated construction worker ◎ construction preparation of prefabricated concrete structure project, on-site installation and construction of precast concrete components, water and electricity installation of prefabricated concrete structure project and on-site safety management
.
◎ professional ability required, including: selection and preparation of construction machinery; Technical measures and control capacity for on-site installation of precast concrete components; On site safe and civilized construction and environmental protection management ability, etc
.
Which occupations can be tested in the future? 1
.
The application of assembly technology for large construction enterprises and class a design units who want to change jobs is the "hardware condition" for undertaking large-scale key projects
.
Its combination with BIM directly stimulates the demand of major enterprises for Bim and assembly talents, and strives to attract Bim and assembly talents first
.
China Railway Construction and large-scale assembly enterprises are encouraged to obtain BIM certificates, especially those related to China railway construction
.
2
.
The Ministry of housing and urban rural development, such as the Design Institute of housing and urban rural development system, large-scale supervisors and constructors, issued a document requiring class a design institute, large-scale supervisors, chief engineers of construction enterprises, constructors and key technicians to carry out Bim and prefabricated building courses
.
3
.
As one of the emerging certificates in the industry, assembly engineer is one of the new occupations entered into the list of the Ministry of human resources and social security in 2020, with wide employment prospects and high salary
.
In addition, the certification institution is the post and Telecommunications Talent Exchange Center, which can not be underestimated
.
The certificate of fabricated engineer obtained through the examination is a green pass for on-site construction, on-site management and fabricated construction of fabricated construction factory
.
In addition, in addition, the State advocates green building and building environmental protection, so if the bidding of some key projects requires an assembler engineer certificate, you can also add points, at least 10 points! With the support of policies and the expansion of the market, prefabricated talents will be hot in the construction industry
.
In addition to being favored by large enterprises, assembly engineers are also very popular in terms of salary
.
From the recent recruitment information released by Zhilian, it can be seen that the monthly salary of assembly technicians is easily over 10000
.
4
.
If you want to improve your work skills, you will have one more choice in your work through learning and textual research, and you can improve your existing work income and alleviate the economic pressure
.
On the other hand, it can also prove their learning ability
.
Maybe many people rarely contact the examination after leaving school, but they usually have a lot of free time, so the examination is also an option
.
Don't waste time
.
5
.
Engineering college students, fresh graduates, Bim and the application of assembly technology create more economic benefits for engineering enterprises
.
Mastering Bim and assembly technology is an important consideration for enterprise recruitment
.
It will also become an additional point for your job search, and you will have more competitive advantages in front of your ideal job
.
Source: sinomenine Youzhi copyright belongs to the original author
.
If there is any infringement, please contact to delete it.
.