Forum exhibition, forum publicity and related cooperation programs are available.
Member units, construction, leasing, manufacturing enterprises, prefabricated buildings and other relevant units: according to the work deployment of the association, the 2021 China Construction Machinery Leasing Industry Development Summit Forum is scheduled to be held in Suqian City, Jiangsu Province in 2021 at the same time of the "2021 (74th) national construction machinery and Mining Machinery Fair".
Analysis on development trend of construction machinery industry; 2.
China Railway Erju Group Construction Co., Ltd.
Analysis and forecast of current market and trend of construction machinery leasing industry; 3.
There are 20 booths in this forum to display advanced technologies and products in the industry, providing a one-stop docking platform for China's construction field.
48, Aoti Road, Hubin tourist resort, Suqian City, Jiangsu Province organizer: China Building Metal Structure Association organizer: China Building Metal Structure Association building construction equipment branch, Beijing China Construction Management Technical Service Center Co organizer Association Shaanxi construction equipment and doors and windows Association Wuxi Construction Machinery Association Zhenjiang Construction Machinery Association Xiangyang construction hoisting machinery association Wenzhou Construction Machinery Industry Association Nantong Construction Machinery Industry Association Shangluo construction equipment and doors and windows Association Sanming Construction Machinery Industry Association Lu'an construction hoisting equipment industry association "Integration" of Qianxinan Construction Machinery Leasing Industry Association and Jingzhou Construction Industry Association Branch Hengyang construction equipment leasing industry association Quanzhou engineering quality and safety association construction machinery branch Xiamen Construction Engineering Materials and equipment association construction machinery branch JiLin Construction Equipment Leasing Association Construction Machinery Safety Management Branch sponsor Jiangsu Jianyou Construction Machinery Co., Ltd.
Contact person and contact information of the Forum Organizing Committee: Wang Nan 18101252235, 18911802476 (same wechat number) email: sbglwyw@163.com For more industry trends, please pay attention to building safety and equipment management..
leasing branch participants: member units, non member units, equipment management experts in the construction industry, construction enterprises, leasing enterprises, host manufacturers, equipment Department Leaders in charge of material department and equipment safety punishment; Leaders of industry competent departments and heads of scientific research institutions, etc.
Xuzhou Huili high strength standard parts Co., Ltd.
Accommodation is arranged uniformly during the meeting, and the expenses are borne by themselves.
How do tower crane leasing enterprises practice their internal skills and learn to develop together; 4.
Tianjin andashun Hoisting Equipment Co., Ltd Co sponsor: Suqian daily Li's mechanical equipment leasing group Zhejiang Hongji Leasing Co., Ltd., Tianjin Building Network Technology Co., Ltd., Jiangsu tengfa Construction Machinery Co., Ltd., Jiangsu Lejia Cold-Formed Steel Co., Ltd., Wuxi Jinyu Construction Machinery Leasing Co., Ltd., Yunnan God Construction Machinery Leasing Co., Ltd Xuzhou shuochen Hydraulic Engineering Machinery Co., Ltd.
How to cultivate and standardize the national construction machinery leasing market; 7.
Anta (Fujian) mechanical equipment industry Co., Ltd.
Related expenses: the meeting expenses of member units are 2200 yuan / person, and the meeting expenses of non member units are 2800 yuan / person.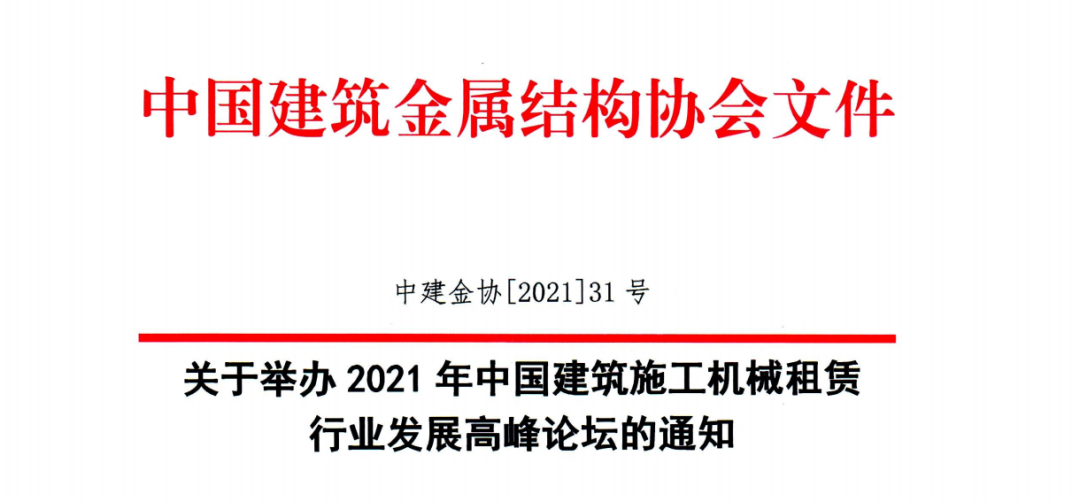 Analysis of construction machinery leasing and equipment management mode in the information age; 8.
Meeting contents 1.
Key points of safety management of construction hoisting machinery and accident case analysis; 6.
Organize to visit the 2021 (74th) national construction machinery and Mining Machinery Fair held at the same time and place.
Opportunities and challenges brought by prefabricated buildings to tower crane manufacturing and leasing enterprises; 5.
The relevant matters are hereby notified as follows: meeting time, place and time: 2021, Specific time and place to be notified: Suqian International Convention and Exhibition Center, Jiangsu Province Address: No.