Recently, there is a great news from Chinese architecture
.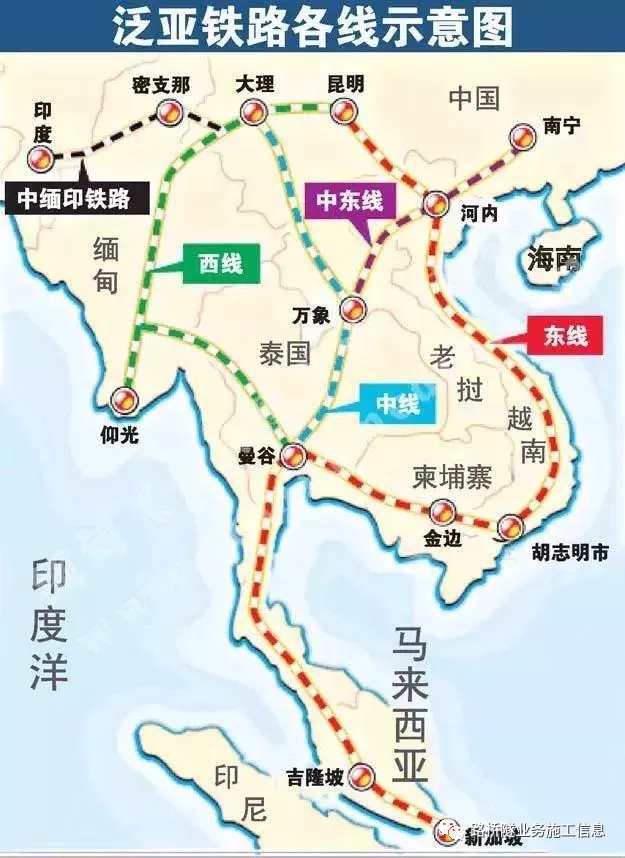 The can joint venture led by CSCEC Thailand Co., Ltd
.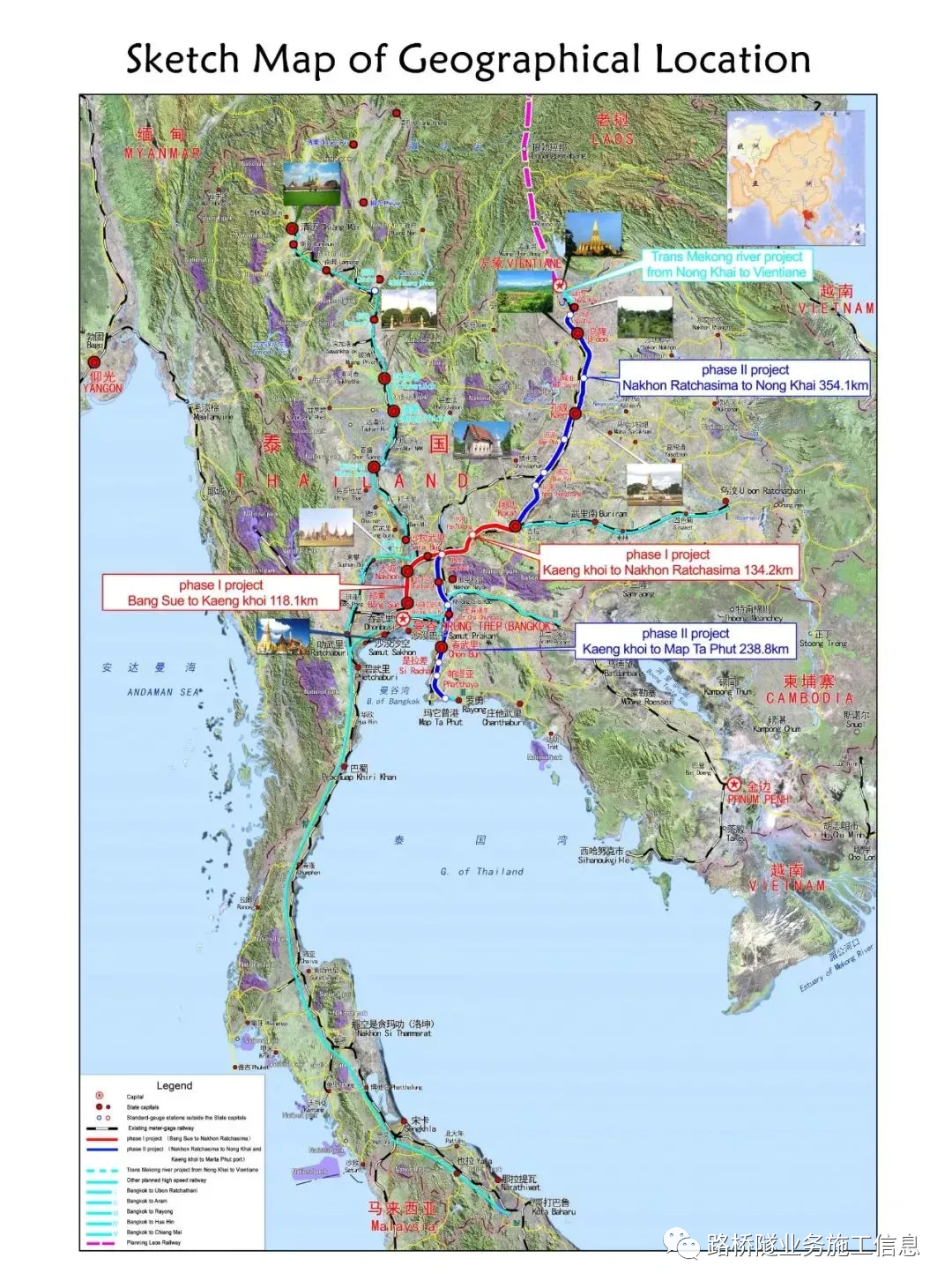 has formally signed the general contract for section 4-3 of China Thailand high speed railway project, with the total contract price equivalent to about 376 million US dollars (equivalent to about 2.4 billion RMB)
.
China Construction International Asia Pacific Company, Bank of China (Thailand), member of can joint venture, Minister of national Ministry of transport of Thailand Mr.Saksayam Relevant persons in charge of the national railway organization of Thailand attended the signing ceremony
.
For details, please refer to the article "CSCEC signed the largest bid section of China Thailand high speed railway project with contract value of 11.5 billion baht"
.
Bid section 4-3 of China Thailand high speed railway project (navanakon Banpo section) is one of the nine bid sections started in the first phase of China Thailand high speed railway (Bangkok Korat section), with a total length of about 23 km and the whole elevated design
.
The total construction fund of the project is the national budget of Thailand
.
The main works include: 23km of box girder and foundation of elevated railway, construction facilities of electric train system, drainage system, removal of track and other public facilities, access to maintenance center, etc
.
The project is of great significance
.
The signing of the contract is an important milestone for both CSCEC and China Railway standard output
.
The high speed rail in one belt, one road between Thailand and Bangkok, and the North Laos border between Thailand and the old fellow railway, form a large direct access to Kunming
.
It is a flagship project for China and Thailand to build a "one belt and one road" quality project
.
The project is not only the first high-speed railway in Thailand, but also the first high-speed railway project in the world to use China's high-speed railway design standards and to be funded by the host country
.
Among them, bid section 4-3 of China Thailand high-speed railway project (navanakong Banpo section) is the only bid section that has been signed by Chinese enterprises, and it is also the largest bid section of China Thailand high-speed railway project
.
This is another new landmark project undertaken by CSCEC in Thailand after the ramaba bridge and the new terminal building of Suvarnabhumi Airport, marking that CSCEC has officially entered a new field of overseas high-speed rail project construction
.
CSCEC's business layout in Thailand began in 1982
.
During 39 years of deep cultivation in Thailand market, CSCEC has successively undertaken a number of influential projects, such as the Meiguang dam in Chiang Mai, the South Outer Ring Elevated Highway in Bangkok, the ramaba bridge in Bangkok, the new office building of Bangkok municipal government, the Chinese cultural center in Bangkok, the M6 highway in Thailand and the Suvarnabhumi Airport Development Project in Thailand
.
Since 2020, CSCEC international has adjusted its overseas regional operation layout, with Thai companies as the main body, integrated the operation and management teams of Philippines, Myanmar, PNG and other countries, established CSCEC International Asia Pacific Company, established a unified market development platform, project performance platform and operation and management platform in the Asia Pacific Region, optimized the allocation of high-quality resources in the region, and realized the centralized development in the Asia Pacific region We will strive to embark on a new journey of high quality development in the 14th five year plan
.
Therefore, the signing of the contract is not only an important manifestation of its influence, but also a manifestation of the effect of strategic adjustment
.
China Thailand railway is hard won
.
The above is the basic introduction of the project, and the following is an expansion..
.
China Thailand railway is actually an important section of Pan Asian Railway
.
The Pan Asian Railway was originally built in the 1960s
.
Relevant organizations proposed to build a railway line with a total length of about 14000 kilometers, which runs through Singapore and Istanbul, Turkey, and extends to Europe and Africa
.
This is a construction plan mainly facing the West
.
Later, he put forward the idea of a new "Pan Asian Railway"
.
The new idea is to build an international railway from Kunming, Yunnan, China to Singapore through Laos, Thailand, Malaysia and other countries
.
This idea is the new "Pan Asian Railway"
.
In recent years, despite the rapid economic development in Southeast Asia, transportation infrastructure construction has always been an important factor hindering economic development
.
China high speed rail high speed rail has China one belt, one road initiative and China's high-speed rail diplomacy
.
China's high-speed rail has achieved some success in Southeast Asian market
.
What's more, one belt, one road initiative, has been difficult in the process of landing
.
Why? Because the Sino Thai railway cooperation negotiation has gone through eight years, with many difficulties and twists and turns
.
The main difficulties are as follows: 1
.
The Thai regime is unstable and coups have taken place many times
.
In fact, Thailand has a strong willingness to join since the Pan Asian Railway concept was put forward, because the project plays a very important role in Thailand's economic growth
.
However, since the military coup in Thailand in 2006, several terms of leadership have been changed
.
As a result, there is no long-term strategic planning in China
.
Even if there is, the economic policies can not be implemented effectively and coherently because of the domestic political turmoil
.
For example, China Thailand railway signed the "high speed railway for rice" plan in 2014, but it also failed because of unconstitutional reasons
.
2
.
Secondly, as we all know, the international competition in the field of high-speed rail is fierce
.
In the process of "going out", China's railway has encountered fierce competition from Japan, Germany, France and other industrial powers
.
In particular, regardless of the impact of domestic fiscal deficit, Japan spared no expense to compete with China in building high-speed railway projects in Thailand, and finally won the construction of high-speed railway from Mangu to Chiang Mai at a loss
.
In terms of the Sino Thai railway project, according to the original negotiation between the two sides, the Chinese side wanted to grant loans to Thailand
.
However, in the previous Sino Thai railway negotiation, the two sides had huge differences because of the way of loans and financing
.
Even after more than a year of negotiations, the details of the railway cooperation project between China and Thailand were still not agreed
.
In terms of loan interest rate, Thailand is not satisfied with the 2.5% interest rate proposed by China and hopes that the preferential interest rate offered by China can be as low as 2%
.
There are also different versions of cost estimates
.
China's estimated cost is more than 500 billion baht (about 14.2 billion US dollars), while Thailand's figure is 400 billion baht (about 11.36 billion US dollars)
.
Considering the loan interest rate, cost and other factors, Thailand finally announced that it would bear its own funds and no longer seek financial support from China, thus shortening its original route
.
The revised route will only include a section from Bangkok, the capital of Thailand, to the northeastern city of khorat
.
The railway is 250 km long, less than one-third of the previously planned route
.
The terminal point of khorat is still about 400 km away from the border between Thailand and Laos
.
It is reported that there are also reasons for the two sides' different views on the loan interest rate
.
China's loan interest rate to Thailand railway is 2.5%, while China's loan interest rate to Yawan high speed railway is 2%, so Thailand demands the same preferential interest rate as Indonesia
.
The reason why the interest rates of loans to the two countries are different is that Indonesia has given China the right to develop commercial land along the Yawan high-speed railway, while Thailand has not
.
Of course, it's normal for Thailand to want to take advantage, but for China, the interest rate is already a friendship price, so we can't do business at a loss, right
.
One belt, one road tainted glasses and 3, the malicious remarks of some countries and China's "one belt and one road" with colored glasses have made the project difficult
.
There are still many difficulties, so I will not cite them one by one
.
In general, after years of overseas war, the risks of overseas projects, whether at the national level or at the enterprise level, are well known, and there is a certain defense mechanism
.
Now, looking back, it seems that the difficulties at that time were light, but in fact, only the participants knew the hardships
.
To say so much, I just want to say that every overseas project is hard won, so it is not easy for Chinese enterprises to sign the China Thailand railway, and we need to cherish it!.
.