Sichuan Vocational and Technical College of architecture is a public full-time institution of higher learning under the Sichuan Provincial Department of housing and urban rural development
.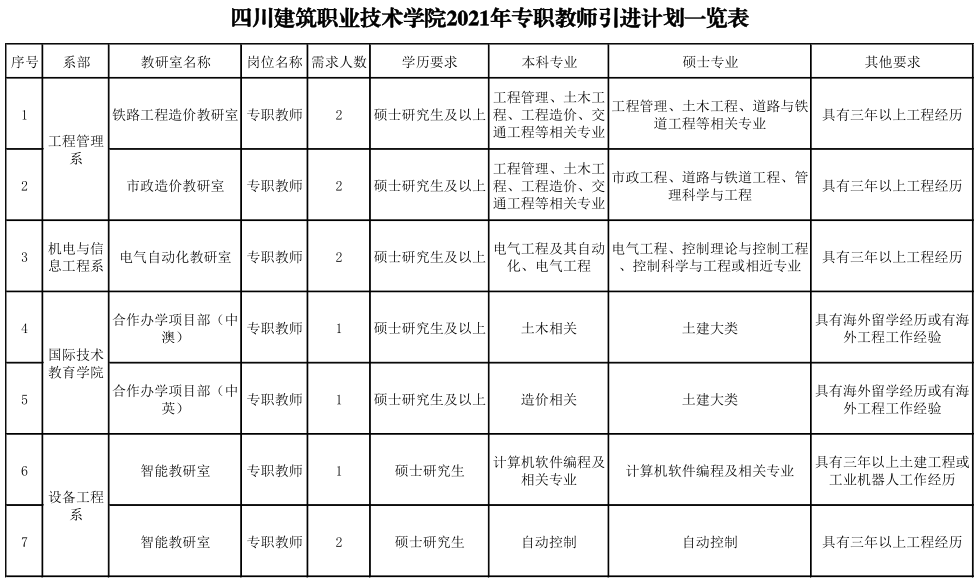 The college is a national high-quality vocational college, which has been selected as the construction unit of high-level specialty group in the national "double high plan", It is a national civilized unit, a national advanced unit of college graduates' employment, a national college with typical employment experience, a deputy director unit of the national vocational education and Teaching Steering Committee for housing and urban rural construction, a demonstration unit of construction industry culture construction, a "Sino German cooperation in the construction of Vocational education and training center in central and western regions" determined by the Ministry of construction, and a "national construction center" determined by the Ministry of education It is the first batch of professional training pilot units in construction field in Sichuan Province, the first university in Sichuan Province to introduce ISO9000 quality certification system, and the first post doctoral innovation practice base in Sichuan Province The university has built the only class a excellent Provincial University Science Park, "top 50 teaching resources of Higher Vocational Colleges", "top 50 national network influence", "top 50 influence of Asia Pacific vocational colleges", "top 50 world competitiveness of Chinese Vocational Colleges", and won the "sixth Huang Yanpei Vocational Education excellent School Award"
.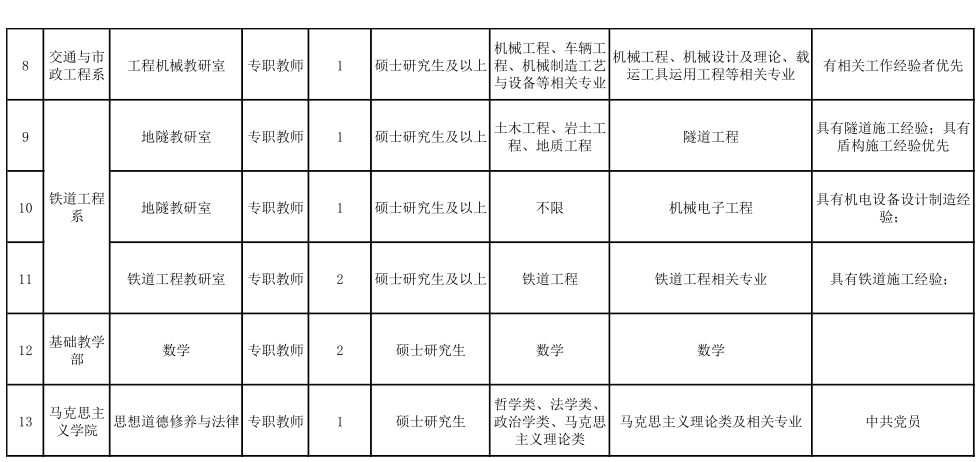 The college has two campuses, Deyang and Chengdu, covering an area of 2129 mu, with a construction area of 570000 square meters, 1.336 million books, more than 260 million yuan of teaching equipment and 900 million yuan of fixed assets
.
The college has 1254 staff, 19117 full-time students and 319 continuing education students
.
There are 1 national teaching team, 4 provincial teaching teams, 3 provincial university enterprise joint application technology innovation bases and 3 engineering technology innovation teams
.
There are 3 experts enjoying special government subsidies from the State Council, 1 provincial academic and technological leader, 5 reserve candidates for Provincial Academic and technological leaders, 3 provincial outstanding experts, 1 national excellent teacher, 4 provincial famous teachers and 1 provincial famous counselor
.
There are 46 professors, 211 associate professors, and 339 "double qualified" teachers
.
There are 51 doctors, 58 doctors and 715 masters
.
There are more than 350 part-time teachers in the college, all of whom are well-known experts and craftsmen in the industry
.
The major setting of the college is mainly civil engineering, transportation and management, taking into account the coordinated development of equipment manufacturing, electronic information, finance and economics, surveying and mapping, materials, water conservancy, humanities and other disciplines
.
At present, it has 12 teaching departments (colleges), 1 teaching department, and 60 specialties, including 1 national high-level specialty group construction, 5 national demonstration specialties, 5 national backbone specialties, 1 National Modern Apprenticeship pilot specialty, 3 Sichuan modern apprenticeship pilot specialties, and 4 Sichuan key specialties
.
It is one of the Vocational colleges with the most specialties in the whole province and even the whole country The National Vocational Education Construction Engineering Technology Specialty (independently presided over) and Engineering Cost Specialty (second presided over) teaching resource database construction
.
There are 5 national excellent resource sharing courses, 10 Sichuan excellent resource sharing courses, 5 Sichuan excellent online open courses, 2 Sichuan "Course Ideological and political" Demonstration Courses, 29 national 12th Five Year Plan textbooks and 12 national 13th five year plan textbooks
.
We should deepen, refine, and implement the integration of production and education
.
Three national productive training bases, one Sichuan virtual simulation training center and one Sichuan high skilled talents training base have been built
.
Sichuan Construction Vocational Education Group strives to be a national demonstrative vocational education group
.
Sichuan Chongqing Construction Vocational Education Alliance is running well
.
Presided over the formulation of 7 professional education standards and 7 industry qualification standards, and participated in the formulation of 18 professional education standards and 15 industry qualification standards
.
Presided over the revision of the catalogue of civil engineering and water conservancy majors in vocational education
.
To host the open Journal of bidding and tendering
.
He presided over the compilation of 21 Sichuan provincial construction regulations, and the chief editor's Sichuan Provincial Construction Technology Regulations won the second prize of Sichuan Provincial Science and Technology Progress Award; he won 2 second prizes of national higher education teaching achievements, 5 first prizes of provincial teaching achievements, 4 second prizes and 4 third prizes
.
The employment rate of college graduates has been maintained at more than 95% year after year, among which the employment rate in large state-owned enterprises has been maintained at more than 50%, and the satisfaction rate of employers to graduates has reached more than 95%, which has achieved the talent training effect of "high quality, high employment and high success"
.
1、 Recruitment plan and job requirements (1) basic conditions: 1
.
Having the nationality of the people's Republic of China, firm political stance, supporting the leadership of the Communist Party of China; 2
.
Abiding by the Constitution and laws, high political quality, good moral quality; 3
.
Loving higher education, healthy in body and mind, able to bear hardships and stand hard work
.
(2) Those who have one of the following situations are not allowed to apply: 1
.
Those who have not been relieved of Party discipline or political discipline punishment or are undergoing disciplinary review; 2
.
Those who have not completed the period of criminal punishment or are under investigation for suspected crimes; 3
.
Those who have violated the rules and regulations in the recruitment of civil servants or public recruitment of institutions and have not completed the period of treatment; 4
.
Those who have been on probation or have not completed the period of treatment Those who have reached the minimum length of service, and those who have applied for the examination without the consent of the employing unit; 5
.
Those who have been dishonest; 6
.
Those who are not suitable for education and student management
.
3、 Recruitment positions and requirements: 1
.
Bachelor's degree and master's degree are consistent with the required majors; 2
.
Basic course teachers are required to have master's degree or above; professional course teachers are required to have more than 3 years of practical work experience; 3
.
As of September 1, 2021, the age is not more than 50 years old; those who are in-service must be qualified (competent) or above in the past three years
.
4
.
Other relevant requirements in the list of full time teachers introduction plan in 2021
.
2、 Salary 1
.
Enjoy the corresponding treatment according to the talent policy of the school
.
2
.
Purchase "five insurances and one fund" according to law
.
3
.
Provide housing in the teachers' apartment building on campus
.
3、 Application method 1
.
Interested candidates should log in to the designated link before April 20, 2021, fill in the content truthfully and accurately, and upload the electronic version of academic degree, degree, certificate and academic degree verification report of xuexin.com; 2
.
Designated link address: http://offer.scac.edu.cn : 8528 /; (the browser is recommended to use Google Chrome or Firefox) 4
.
Interview (1) interview time: after passing the primary election, inform by phone or SMS, and those who fail will not be notified
.
(2) Interview requirements: 1
.
Candidates who have passed the preliminary examination of resume should bring the original and copies of their paper resume, ID card, graduation certificate, degree certificate and relevant certificates when they come to the University for the interview
.
2
.
The qualification examination of candidates will run through the whole process of recruitment
.
In case of any false information provided by the applicant, the applicant will be disqualified immediately
.
3
.
The college will not accept any applicants who fail to pass the school's qualification examination
.
All application materials will not be returned
.
(3) Interview method interview + trial lecture (about 30 minutes to prepare for the course, the course content is related to their professional, PPT can be prepared to help talk) 5
.
Admission method the results of the interview will be announced by telephone or online
.
Please report to the school according to the time stipulated by the college
.
Failure to report within the time limit will be deemed as abandonment.
.