Experts: at present, the state is committed to promoting the construction of smart city, continuously promoting various building electrical energy-saving technical measures, formulating relevant standards, and adopting various design schemes to promote the efficient use of innovative and advanced energy-saving products
.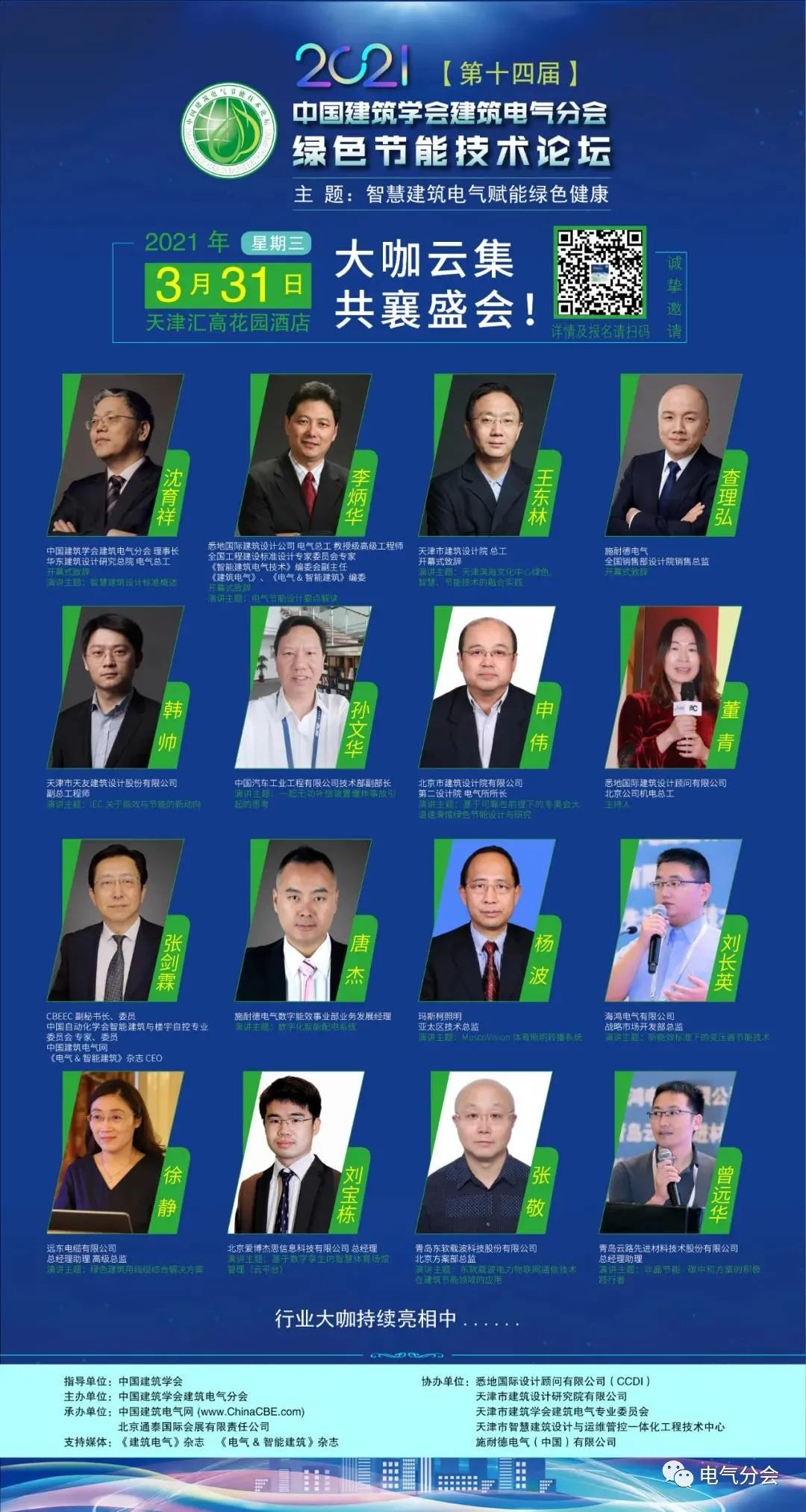 In order to continuously and deeply discuss national and industrial energy-saving policies and standards, exchange building electrical energy-saving design cases and experiences, and achieve green, safe, comfortable and healthy under the background of normalization of epidemic prevention and control, building electrical branch of Chinese Architectural society is scheduled to hold 2021 green energy-saving technology forum of building electrical branch of Chinese Architectural Society in Tianjin on March 31
.
The theme of this forum is set as: smart building electrical enabling green health
.
Domestic and foreign experts on building electrical energy-saving design will be invited to make special academic reports on the latest progress in smart city, building electrical energy-saving, building intelligence, new energy application technology, etc., so as to build an exchange platform for energy-saving technology and products for scientific research, design and production enterprises, and contribute to promoting the application and design level of smart building electrical energy-saving technology and products in China Give strength
.
Time: March 31, 2021 location: Tianjin HuiGao Garden Hotel (address: no.236-1, Baidi Road, Nankai District, Tianjin) director: China Society of architecture organizer: Beijing Tongtai International Exhibition Co., Ltd., architectural electrical branch of China Society of architecture Co., Ltd
.
Co organizer: CCDI Tianjin architectural design and Research Institute Co., Ltd Tianjin intelligent building design, operation and maintenance management and control integration engineering technology center of building electrical professional committee of Tianjin Architectural Society Schneider Electric (China) Co., Ltd
.
Undertaker: China building electrical network( www.ChinaCBE.com )Supporting media: Journal of building electrical, Journal of Electrical & Intelligent Building 1
.
Forum content (1) building electrical branch of China Architectural Society and Speech by Tianjin leaders; (2) energy saving standards and technical application reports of building electrical energy saving experts; (3) introduction of new electrical energy saving technologies, new products and new schemes of enterprises (discussion on Application of energy saving technologies in power transformation and distribution, intelligent technology, lighting and special industries)
.
2
.
Schedule of the meeting: from 13:00 to 18:00 on March 30, exhibition enterprises report 15:00 to 19:00, foreign guests report 15:00 to 19:00 (formal Forum) 8:00 to 9:00 on March 31, guests report 9:00-9:20, opening ceremony 9:20-12:00, special technical exchange report 13:30-16:30, special technical exchange report 16:30-17:30, interactive discussion 9:00-12:00 on April 1 (3) participants: (1) leaders of relevant urban construction departments in various provinces and cities, persons in charge of urban construction and property management, and members of China Society of architecture; (2) Chief Electrical Engineer, Deputy Chief Electrical Engineer, office director of Architectural Design Institute, and persons in charge of large-scale engineering projects; (3) experts participating in the formulation of National Electrical and energy-saving standards; (4) construction units And general manager, chief engineer and electrical engineer of construction engineering company; (5) general manager and chief engineer of building electrical energy saving and intelligent system products and equipment manufacturer; (6) teachers in related fields of colleges and universities, researchers and graduate representatives of scientific research institutes; (7) other domestic and foreign institutions and individuals participating in building electrical energy saving technology research
.
4
.
Deadline for submission: March 10, 2021 email address: zhineng-jz@vip.sina.com/171799077@qq.com 5、 Director of the Forum Organizing Committee: Li Binghua deputy director of the Forum Organizing Committee: Wang Donglin, Dong Qing, Li Min, Yu Zhimin, Liu Wei, Li Wei, Xu Xuemin, Yang Bo, Xie Zhengrong Secretary General of the Forum: Zhang Jianlin Secretary: Peng Yun, Liu Wei contact Zhang Jianlin for conference affairs Peng Yun, Liu Wei, Li Binghua, Dong Qing 1390115901613611174367138217739761350138413413910310524 after receiving the invitation letter, please fill in the annex "2021 energy saving technology forum registration form of building electrical branch of Chinese Architectural Society", and please email, SMS and wechat to the meeting affairs group of the organizing committee before March 10, 2021, so as to handle the reception matters such as audit confirmation and representative card
.
December 23, 2020, architectural electrical branch of Chinese Architectural Society source: New Media Editor of electrical branch: Tao Yuanqing responsible editor: Wei Wei award-winning questionnaire survey "building energy efficiency" magazine was launched in October 2006
.
In 2020, it was selected into the classified catalogue of high-quality Sci-tech Journals in the field of building science
.
It has been rated as China's core sci-tech journals for 8 consecutive years and RCCSE China's core academic journals for 4 consecutive years
.
By October 2021, the magazine will have been established for 15 years
.
In order to better serve the authors and readers and contribute to the national building energy conservation work, the magazine has conducted this questionnaire survey
.
Thank you for your attention and participation
.
After the survey, the magazine will select the top 30 participants in the valid questionnaire to present commemorative gifts
.
I wish you success in your work and academic progress! Please add wechat 17887507336 to the readers of the magazine
.
Please pay attention to the permanent column of building energy efficiency (Chinese and English) in 2021
.
Building carbon neutral green building thermal insulation HVAC renewable energy utilization and energy saving transformation Standard Specification ecology · building · environmental electricity and intelligent DC building alliance energy saving economy and Industry Research intelligent operation and maintenance green construction energy saving production Products and enterprise building energy efficiency magazine subscription – small program – online, welcome to subscribe.
.