Huai'an district government and Hongze district government should focus on implementing territorial responsibilities, strengthen the protection and utilization of historical buildings, and give full play to the positive role of historical buildings in the protection and inheritance system of our city's history and culture.
Source of Huai'an Municipal People's Government on December 31, 2021: Huai'an people's network and the official website of Huai'an Municipal People's Government conveniently click "looking" and transfer it to people around them..
Recently, Huai'an Municipal People's government announced the second batch of historical buildings.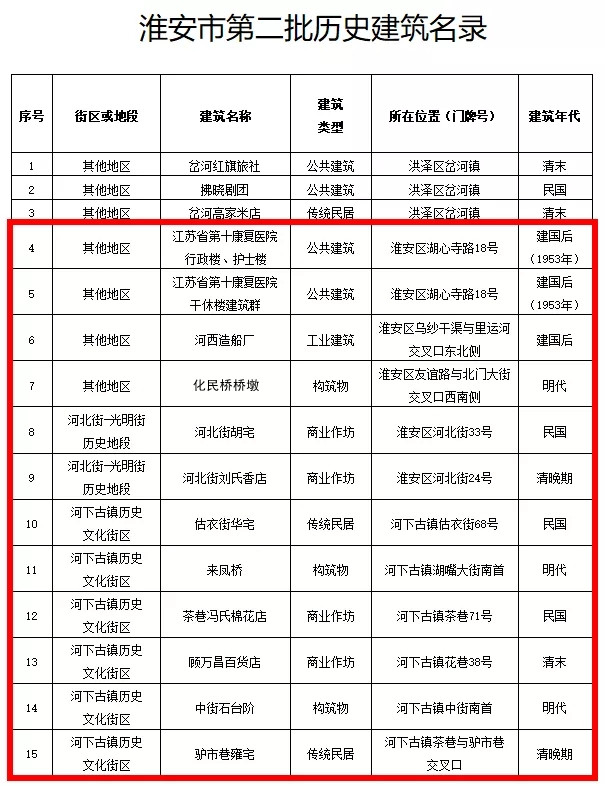 22 all county and District People's governments, municipal committees and bureaus and units directly under the city: in order to inherit and carry forward the excellent traditional culture of Huai'an and improve the protection and inheritance level of historical culture in our city, In accordance with the relevant provisions of Article 47 of the regulations on the protection of famous historical and cultural cities, towns and villages, the list of the second batch of historical buildings in our city (see the annex for details) is hereby published.
It is hereby notified.
Huai'an district government, Hongze district government, Municipal Bureau of natural resources, Municipal Bureau of culture, broadcasting and tourism, Municipal Bureau of housing and urban rural development and other units shall do a good job in surveying, mapping, filing, listing, protection and utilization of this batch of historical buildings according to their respective responsibilities, timely study and formulate policies and measures related to protection and utilization, and mobilize the enthusiasm of owners, users and managers of historical buildings.
Of the 15 directories, Huai'an District accounts for 12! Notice of Huai'an Municipal Government on publishing the list of the second batch of historical buildings huaizheng Fa [2021] No.