Statement: this subscription number is for public welfare, completely free service for employers and peers, so that employers can recruit suitable talents, and each peer can find their own post! Recruitment of civil engineer, responsible for the management of civil construction site, construction technology
.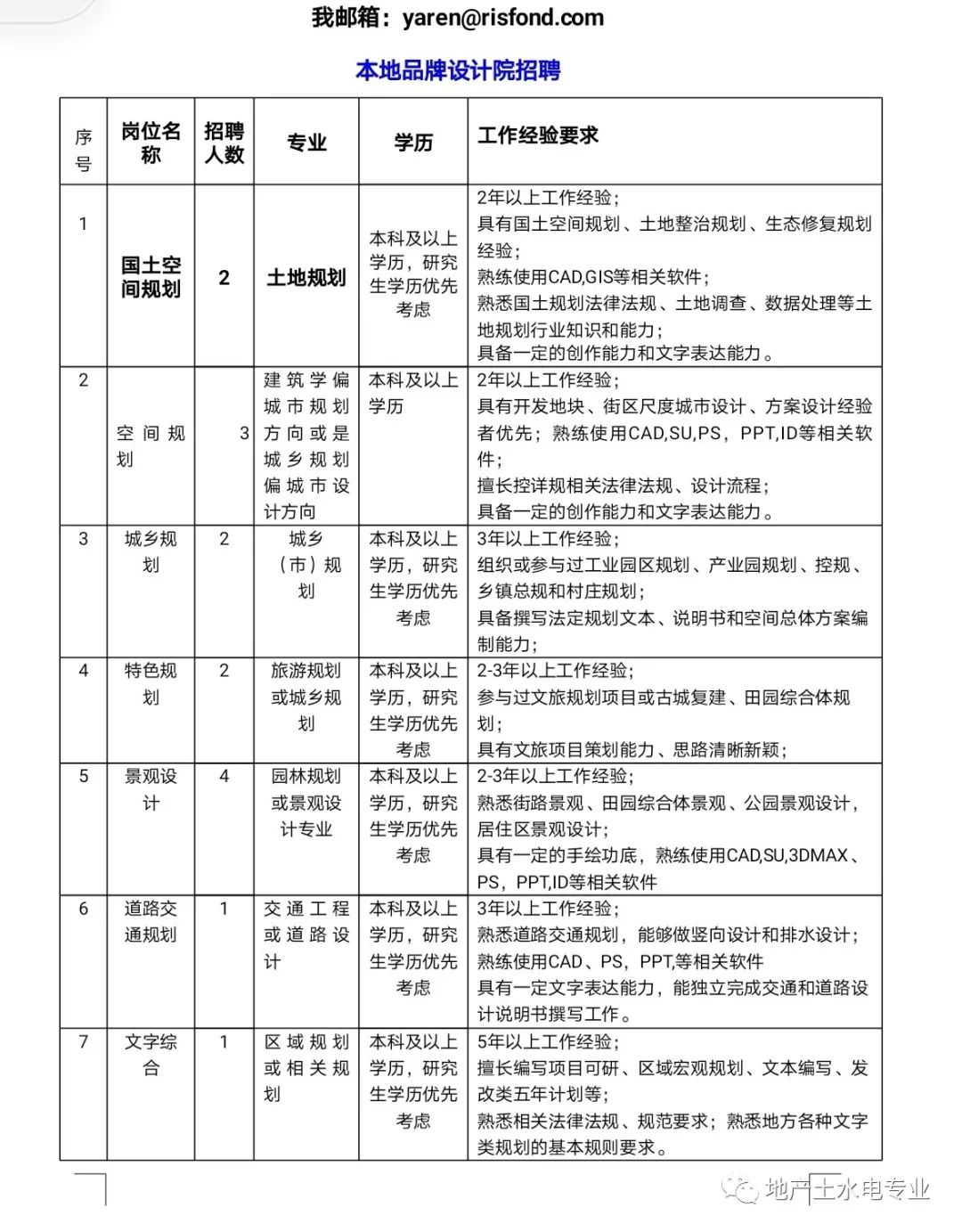 Mainly villa, plant, office building secondary reconstruction construction, expansion construction, foundation construction, can use construction equipment, can set out, can read the map
.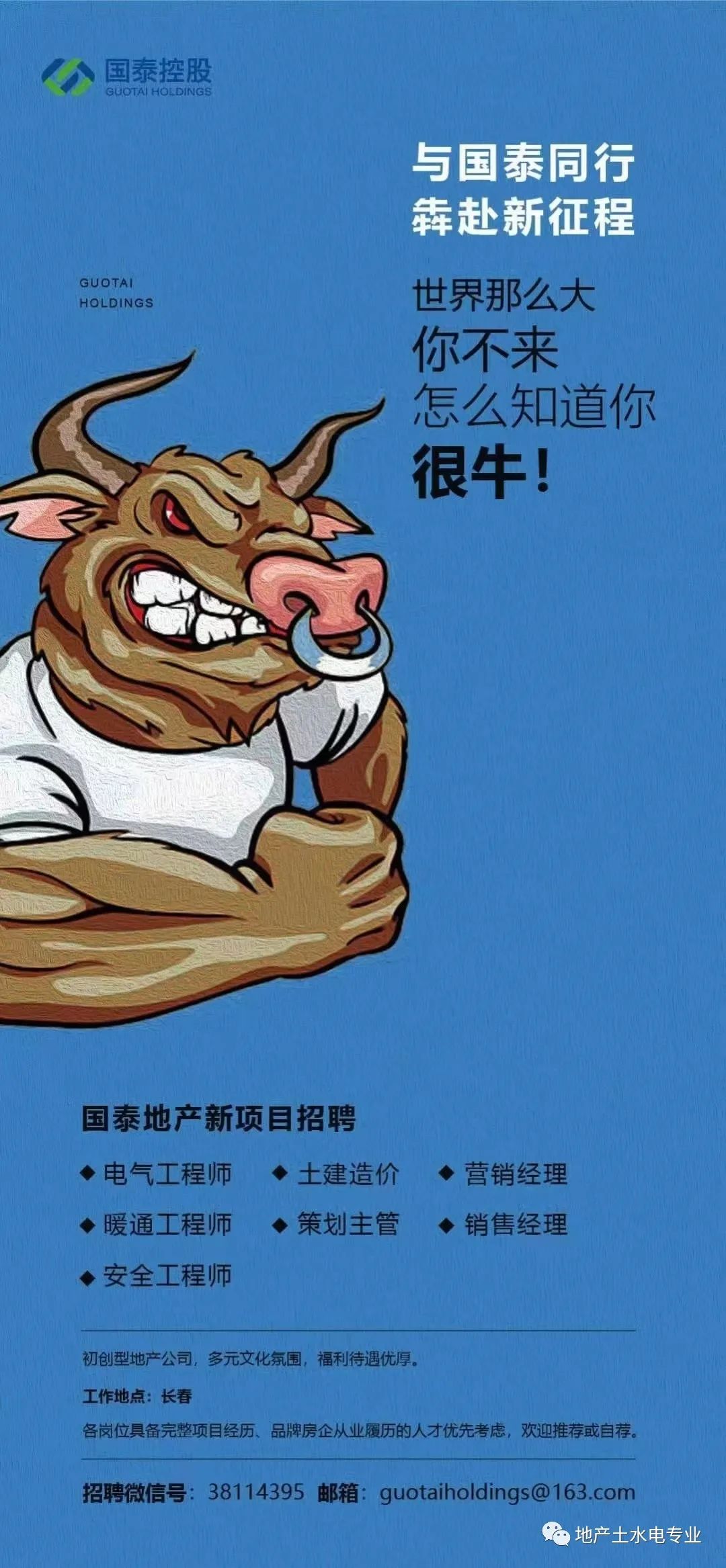 Can CAD and simple reinforcement and load calculation, can use Guanglianda software simple calculation
.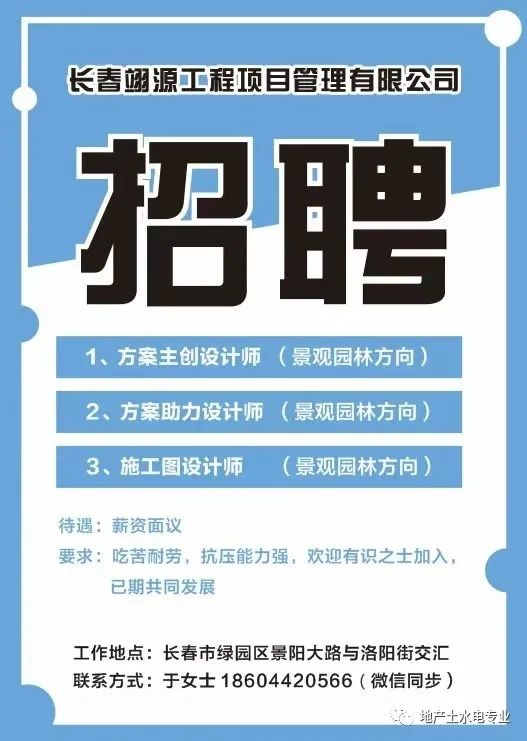 Understand the connection of construction process
.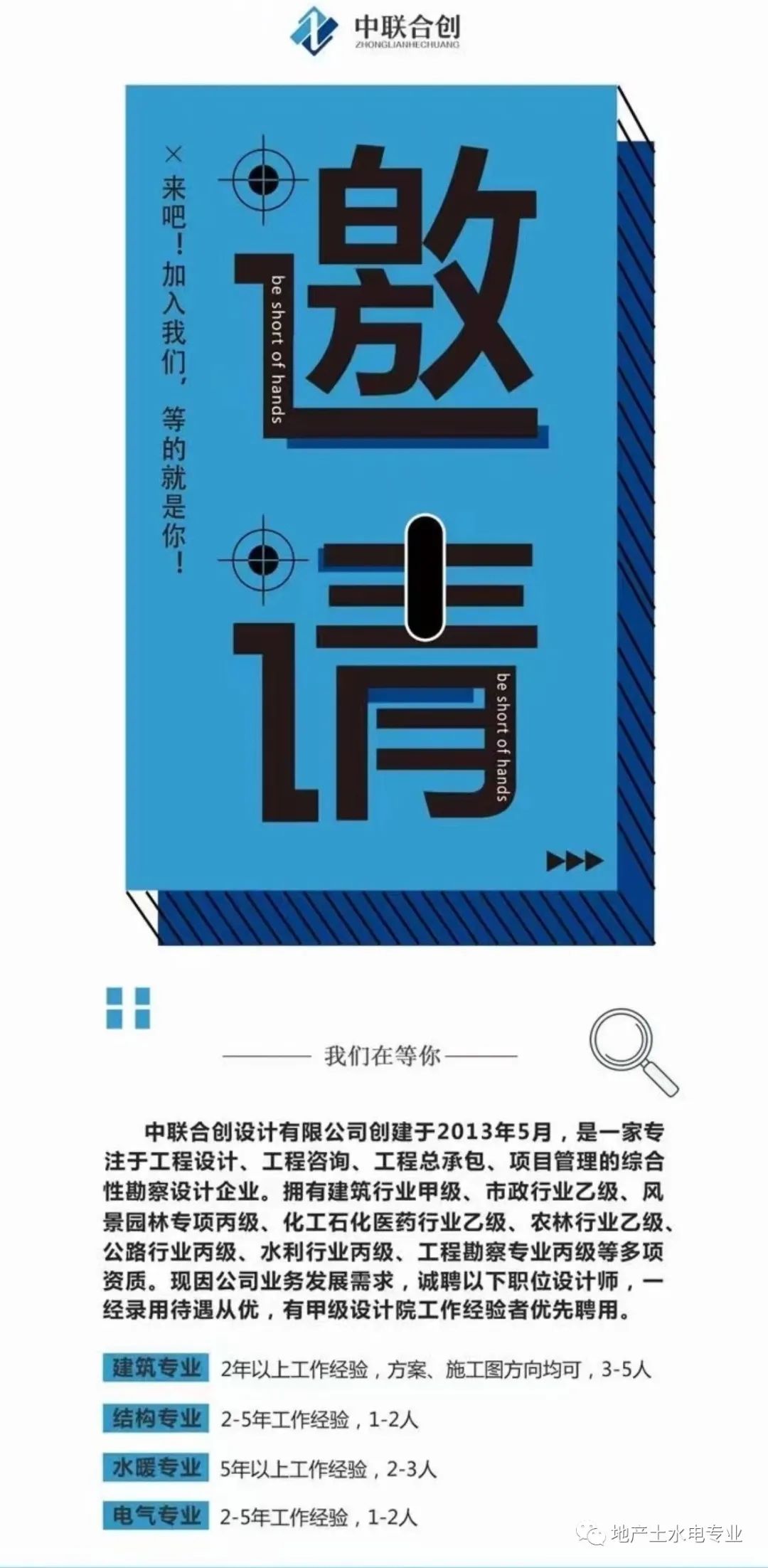 More than 10 years working experience
.
The salary is 15000-20000 yuan
.
The working place is in the net month, and the working hours are from 7:00 a.m
.
to 7:00 p.m
.
2 days a month paid rest, the company provides accommodation
.
Requirements of their own car, college degree or above, construction engineer certificate and intermediate or senior title certificate is preferred
.
Contact person: General Manager Liu 1804302111 grade a design institute is looking for a professional architect, working for 1 to 5 years
.
Job responsibilities: cooperate with the person in charge to do the preliminary scheme design and complete the preliminary architectural design and construction drawing design
.
Job requirements: 1
.
Full time bachelor degree or above, architecture and other related majors; 2
.
Be familiar with the whole process of construction drawing design, and be able to complete the design 3
.
Skilled use of design related software; 4
.
Healthy, careful and rigorous, with good professional quality and team spirit
.
Good treatment, welcome to call
.
13578981172 with wechat Middle East Group to recruit architectural designer and electrical designer
.
Responsibilities of Architectural Designer: 1
.
Responsible for architectural design related work; 2
.
Responsible for design coordination and effect control of construction site; 3
.
Responsible for coordination with relevant departments; 4
.
Complete other temporary tasks assigned by the superior; job requirements: 1
.
Education requirements: Bachelor degree or above, architecture Professional; 2 experience requirements at the same time: more than 2 years of working experience in scheme design; more than 2 years of working experience in real estate company; large commercial project experience; 3 skills and ability requirements: 3.1 basic ability: strong scheme design ability, strong scheme implementation ability and strong writing ability; 3.2 business skills: master the business knowledge of planning and architectural design And system operation; 3.3 management skills: excellent organization and coordination ability, strong communication and expression ability, as well as good promotion and execution ability; 3.4 computer skills: 1
.
Proficient in various office software, CAD drawing software operation; 2
.
Proficient in the use of skepchup, PS software; 4
.
Other: basic knowledge of project management, basic knowledge of marketing, national knowledge of land development Relevant policies and regulations
.
Wang xinxinxingyu is looking for municipal project manager and external network project manager
.
He works in Tongliao
.
His contact person is Zhang Yongwei 13944872529
.
Due to the business expansion of our company, we are looking for some designers
.
Professional requirements: Architectural Design Co., Ltd Bachelor degree or above in architecture, structure, plumbing, electrical, with unlimited working experience, eager to learn, willing to work, positive, team work ability! Once employed, preferential treatment! Tel: building professional Tel: 15943090550 structure professional Tel: 13404323203 plumbing professional Tel: 13604449623 electrical professional Tel: 18844198086 the above recruitment information is provided by the network or recruitment unit
.
If you have any questions, please send me a message or leave a message! More information welcome
.